HLB Tashkent has been successfully working since 2001 on Uzbekistan's market of auditing and consulting services. It is a permanent member of the Chamber of Auditors of Uzbekistan and is among the top authoritative organizations on the Uzbek market in its sector.
HLB Tashkent offers a full range of auditing and professional services in accounting, taxation and financial analysis. Our organization conducts audit using NSA (National Standards on Auditing) and ISA (International Standards on Auditing).
HLB Tashkent is included in the list of audit organizations eligible to conduct external audit for enterprises and joint stock companies who have 51 percent or more of state ownership (equity).
HLB Tashkent uses in its practice methods and standards according to NAS (National Accounting Standards) of Uzbekistan, NSA (National Standards on Auditing) of Uzbekistan, IFRS (International Standards of Financial Reporting), ISA (International Standards on Auditing), as well as internal auditing standards developed by experts of our Organization.
HLB Tashkent has long-term experience working with blue chip companies and state enterprises in the major industries of economy (chemicals and petrochemicals, oil and gas, metallurgy, energy, telecommunications, construction, trade, transport, etc), including 200 top companies in Uzbekistan.
Professional responsibility of HLB Tashkent is insured by the «MADAD» insurance company in the amount of 2 000 000 000 (two billion) soums.
Upon signing the contract on auditing, our organization takes the following commitment:
-  be present during inspections by the authorities in order to provide explanation and consultation (per customer request).
-  be liable to customers (reimburse fines and penalties applied by the tax authorities) under the contract. HLB Tashkent guarantees strict confidentiality on information obtained during conducting audit or rendering professional services.
Our Licenses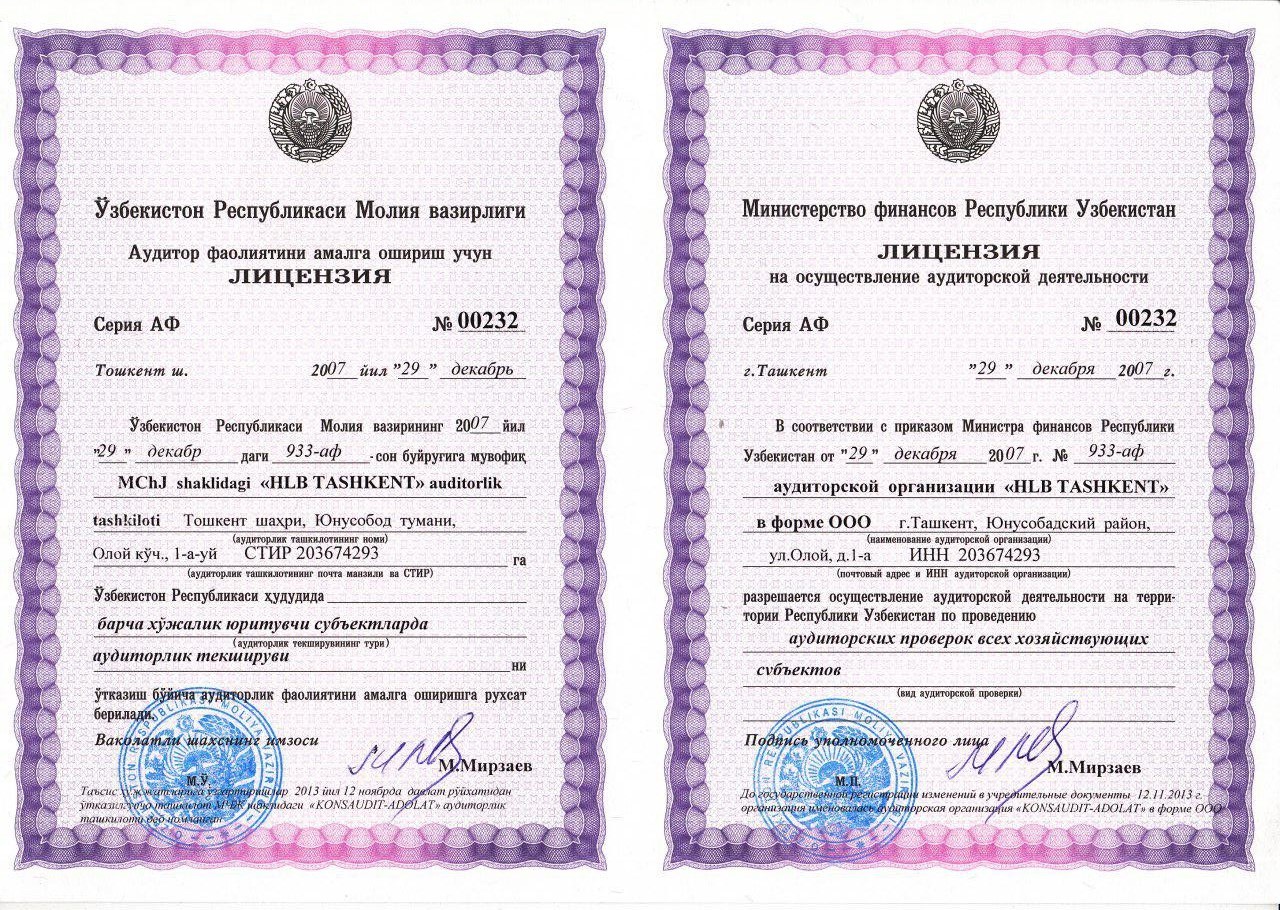 Our Certificates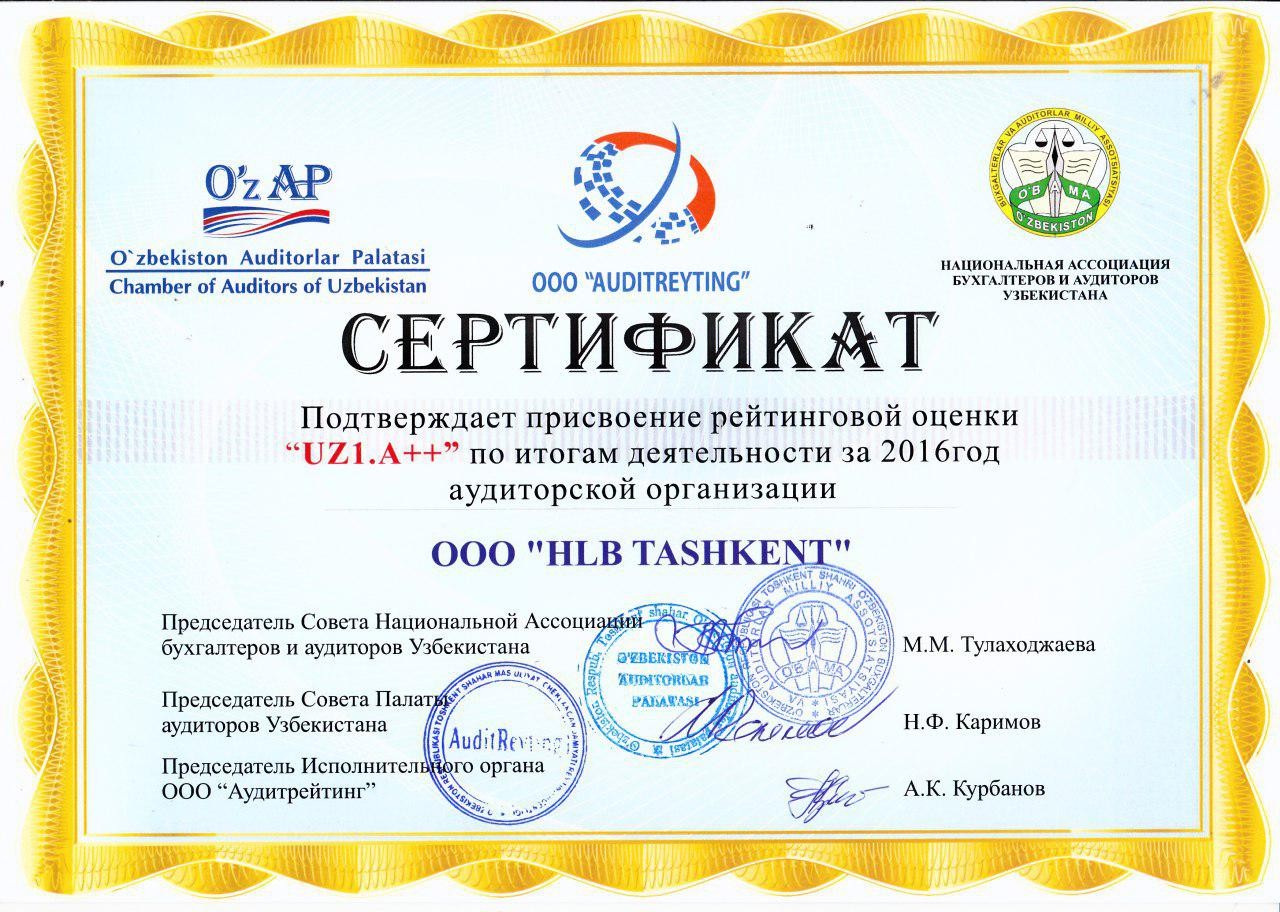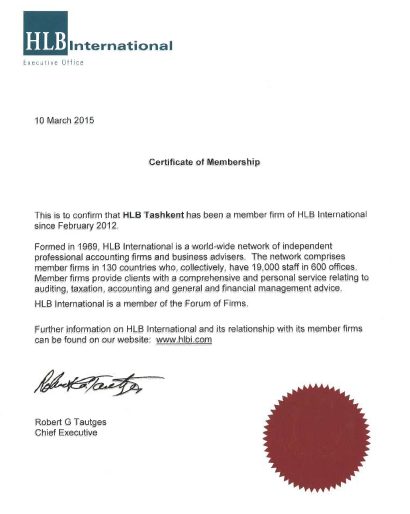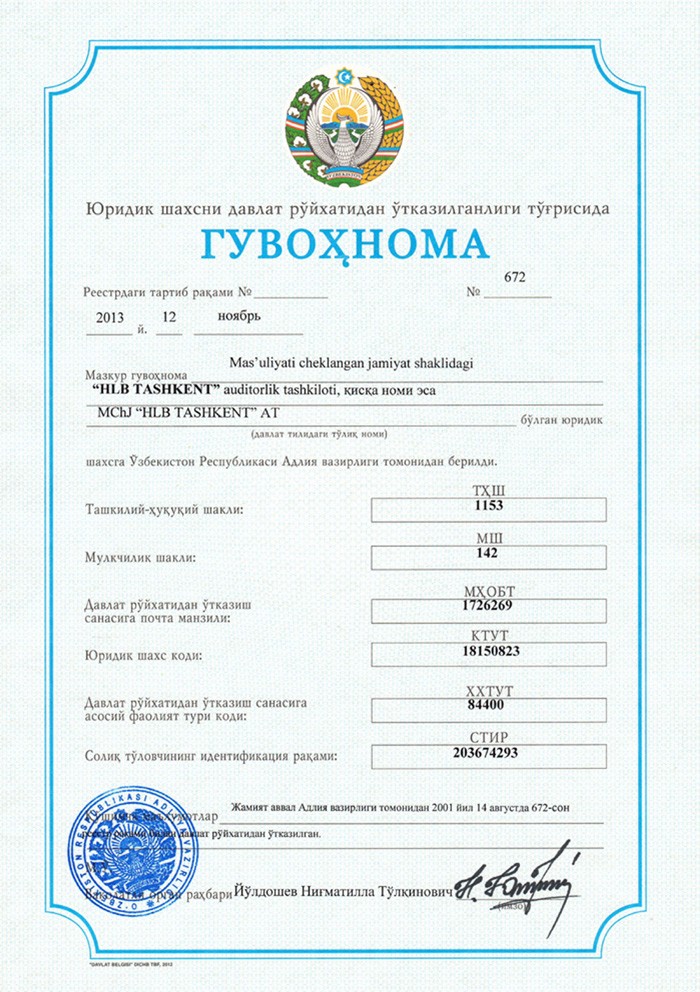 Our Mission
Minim veniam nostrud exeation _______ laboris nisi aliquip extea _______ conaquat aute irure dolor __ reprehenderit aillum dolore eu ______ nulla pariatur sint occaecat _________ nonat sunt in culpa ___.
Magna aliqua enim ad _____ veniam nostrud
Architecto beatae vitae dicta ____ explicabo
Exeation ullamco laboris aliquip _____ commodo
Nemo enim ipsam voluptatem ____
Conaquat aute irure dolor __ reprderit aillum dolore
Voluptas sit aspernatur aut ____ aut fugit
Fugiat nulla pariatur sint ________ doloremque